_Currency Wars_
If you want some view on the future, James Turk reviews a new book: Currency Wars, by Jim Rickards:
.... the first part being almost surreal because it reads more like a novel than non-fiction. It details Rickards' participation in an exercise at the Warfare Analysis Laboratory near Washington D.C. This group is one of the Defense Department's leading venues for war games and strategic planning, but in a first-ever event, the game in which Rickards joined was not a war-fighting simulation. Rather, several dozen people from the military, academic and intelligence communities fought a global financial war using currencies and capital markets to support national interests. Rickards and two colleagues were invited to give the simulation some real-world, Wall Street expertise about markets, which they certainly did.

I guarantee that when you start reading this part, you won't put the book down until you learn the outcome of the war. It reads better than a suspense novel, even though the ending is somewhat anti-climactic and predictable. While I won't spoil it for you by divulging the ending, I will note that gold has a big role to play. In fact, gold reappears throughout the whole book.

In the second section, Rickards analyzes the first two currency wars (CWI and CWII). ...
From the "you read it here first" department: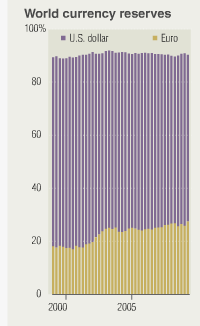 The final section of the book explains why the world is now fighting Currency War III, which Rickards believes began in 2010. He speculates that there are three possible outcomes from CWIII – paper, gold or chaos. Each of these alternatives is analyzed in detail, providing readers with much food for thought.
Actually, the scenes of this war go back to the issuance of the Euro as a credible alternative, and play their part in the great Financial Crisis of the 21st century. For confirmation of the thesis, Goldmoney's blog also pointed at The Real Contagion Risk which makes the same point: watch for the Central Banks to shift out of US Treasuries:
Step 1: As the global growth story frays, global trade decelerates, and the sovereign and total debt burdens of various countries drag at economic growth, fewer and fewer dollars will be accumulated and stored by various foreign central banks. The typical way dollars are stored is in the form of Treasury holdings. Because of this, several years of record-breaking Treasury accumulation by these foreign banks will grind to a halt and foreign Treasury holdings will begin to decline.
So what's our prediction? Well, it'll be a long slow decline from the dollar as reserve currency. The Euro looked good for a decade, but that's off it's shine now. Expect Central Banks to get back into the currency trading game -- and keep reserves of their bigger partners. And, the next shot in the war will be related to energy -- which is typically priced in dollars.
Gold? Well, everyone expects that to come up. James Turk says:
The harmful effects from abandoning gold still impair economic activity today because the necessary discipline has been removed from the monetary system, creating the global imbalances, debt loads, insolvent banks, risky derivatives and other problems that plague our world. So as economic activity sinks ever deeper into an abyss, think about the cause.
Yeah, and we used to say that governments should go back to the gold standard because we don't trust them with their own units.
Very proven true, no doubt, these days, but there has been a bit of a shift in thinking of late. For me, it was signalled by Alan Greenspan as far back as 1995 (?) when he said "nobody's listening any more." (In response to being asked why he didn't talk about gold anymore.) Fact is, governments will issue their own currencies, whether we trust them or not:
Namely, governments have created this mess, so we cannot rationally expect governments to get us out of it, which is something I have intuitively understood for some time but was also the main conclusion I reached from Rickards' book.
And, the clanger is this: We don't trust governments, period. We don't trust them to issue their own inflation-protected currency, and we don't trust them to issue a gold-based unit either.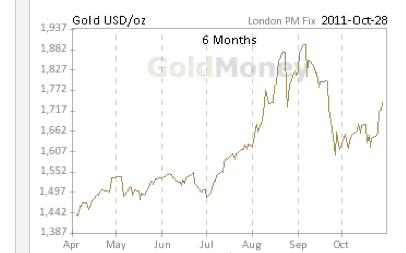 So, gold goes free. Economists are no longer advising governments to base off gold, because we know it won't work. Gold therefore will remain the independent watchdog it has since the closing of the gold window by Nixon; a three-way tussle between central bankers, gold banks and the buying public.
The future is a world of competitive currencies, USD, Euros, Yen, the Chinese unit ... and gold. With a very slow long decline of the power of the USD.
Disclosure: Author is long gold, and short fingernails.
Posted by iang at October 31, 2011 10:34 AM | TrackBack