Gold bullion market set to implode?
I don't normally follow the gold talk because on the one hand it is the goldbugs saying "gold is set to explode" and on the other is a bunch of bankers that insult the noble metal, while on the backside buying & selling it short, naked and happy as fast as they can. That is, the story never changes.
Which in some senses is good. There has always been an expectation that gold would survive. So far nothing has changed to keep that expectation solid, with gold at $1000 an ounce, up from around $250 8 or 9 years ago.
But there is another aspect beyond the price: the market itself. As it happens, this is founded on a thing called "good delivery" bars run by LBMA (London Bullion Market Association), London being the center of the physical gold trading world. This is a good efficient and simple system which works like this: once your gold is "in" the LBMA good delivery programme, you can reliably ship it to any one of the vaults that are in, and sell it within. Deliver it out of LBMA-territory, and your gold loses its status. To put it in, it has to be tested, at some cost.
So, most of the physical retail gold that is traded (in bars) is inside the LBMA system. It's just easier to buy and sell when someone guarantees it. Which brings me to the point: Obviously, the guarantee can be wrong.
About 10 years ago the debate of unreliable LBMA bars erupted in the digital gold community, and we discovered at that time that the gold is not routinely checked in any way once it is in the system (not this). At all! I predicted then that this would mean the gold would slowly lose its integrity, as insiders raided it sliver-by-sliver, over the many many decades of its operation. It looks like I was right, from this post that JPM sent:
C) In an Asian depository, they've found "Good Delivery" bricks that had been gutted and filled with tungsten.
And predictably, the writer goes on to report "B) A number of large interests have demanded audits of gold stored in London."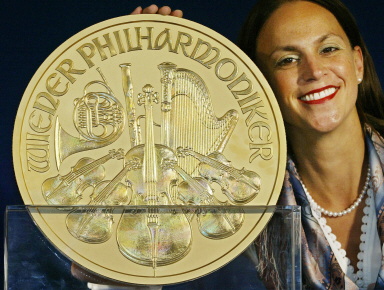 If you hold gold in the LBMA system, be worried. If you are an issuer of digital gold be very worried. Why? Because it looks like the gold markets are about to be tested. Not in price terms but in delivery terms. To summarise the long anti-markets rant by "marketskeptics" (a.k.a. Eric deCarbonnel):
Indians are shifting from buying gold jewellry to gold coins.
China now actively promotes selling and holding of physical gold. That's the government, and every bank!
Hong Kong and Dubai are pulling their physical gold out of London. German and Swiss investors and funds, likewise, and also demanding delivery out of the USA.
There is now an overall trend to take physical delivery from metals facilities (vaults, exchanges, etc).
Which has resulted in a rash of complaints ... which quickly become fingers pointed at possible collapse: delays, "complications", wrong bars, wrong weights, "restrictions", costs blossoming, etc.
New York and Tokyo commodity exchanges are now permitting their gold futures contracts to be settled not in real metal but in shares of gold exchange-traded funds (ETFs)... NYSE-Liffe arbitrarily switched delivery of 1kg bars to ... notes on 1/3 interests in 100 ounce bars. If you can get three notes, you can take a 100 ounce!
irregularities in bar amounts have surfaced at different places (e.g., Canadian Mint)
Deutsche Bank may have recently closed out a gold shortage by buying it from the ECB and delivering it. Apparently, to the tune of 35.5 tons of gold, in one day! 12 days earlier someone shorted the same amount...
gold banks (those big in the trade) are offering 25% over spot to settle in anything but physical gold.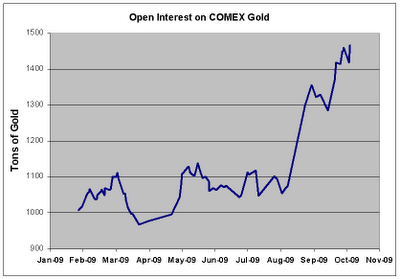 Have we got the message that physical gold now counts? If so, then one could wonder why open interest in gold trading on COMEX has since exploded? From August this year, it's jumped from a stable 1000-1100 tons band to around 1450. That's 40% up in a virtually traded commodity that is increasingly being demanded to convert to physical delivery! And, according to their reserves, it cannot be delivered: COMEX only holds 250t.
I wouldn't rule out a run on COMEX, and if so, it will likely collapse. That's because its reserves are a fraction of the open interest, so it looks highly vulnerable to being squeezed by the open traders (the "shorts") on one hand and the retail demands for physical delivery. Why won't the former deliver? Because for the most part they haven't got it; a short sale is generally a promise to acquire it when needed. In trading parlance, a lot more of the shorts are "naked shorts" which means they rely on a falling market (it's supposed to be illegal to be naked in a public trading, but a lot of markets look more like a nudist convention than a church meeting).
And we have a rising demand for physical, and a rising price in gold. So the squeeze happens this way: first the COMEX warehouse gets cleaned out. Then COMEX puts the squeeze on the short sellers to deliver their promise. Gold, physical, now. Which shorts then suddenly fold their cards, reveal their nakedness and declare mea culpa, I'm a nudist, so chase me. At some point, when enough of this goes on and is reported, the whole pyramid of cards collapses.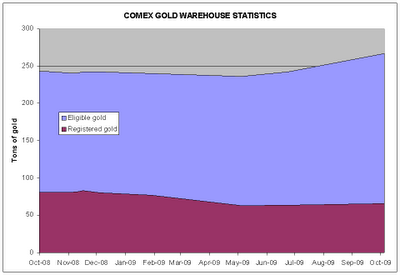 What's the likelihood of this happening? I feel it is being tested at the moment. It will probably take a rash of more bad financial news to make it happen, faster than we can react. E.g., a couple of months of CITs or European unemployment figures. But it is possible, because the gold markets have not been divorced from the decades of corruption that brought down the other markets. More likely we will see a gradual shift out of COMEX, out of London and across to other gold exchanges; preferably ones outside the western/toxic asset belt, and ones that can more easily prove their reserves. Meanwhile, those who hang on will lose value. Someone has to pay for the frauds of the past.
It's definitely not easy to predict when something will happen. But it is possible to point to fundamental and powerful contradictory forces. And that's the situation right now with the markets in gold, if that post is reliable (it might not be, it's from a goldbug, after all!). I would suggest that if people want to speculate in the gold of any form right now, hold physical only. The rest is ... too uncertain in value. That's beyond speculation, that's gambling, only do that if you really enjoy the thrill of losing bar-worths of value.
(Note: one thing I loosely follow is goldmoney's blogs and posts from founder James Turk. He's just announced that Turk's long-running newsletter is now migrated online only, and for free.)
Posted by iang at November 1, 2009 12:58 PM | TrackBack