The War on Drugs moves to endgame: the War on US Americans
The decision to conduct a war on drugs was inevitably a decision to hollow-out Mexico. The notion of hollowing-out states is a time-honoured tradition in the Great Game, the way you control remote and wild places. The essential strategy is that you remove the institutions that keep places strong and stable, and bring them to a chaos which then keeps the countries fighting each other.
While they fight each other they are easier to control and extract value from. This is the favourite conspiracy theory behind the middle east and the famous Kissinger Deal: The Sheiks are propped up and given control of weak states as long as they trade their oil in dollars, and use the money to buy American goods. Of course we only speculate these details, and sometimes things look a little loose.
There are weaknesses in the strategy. Obviously, we are playing with fire when hollowing out a state ... so this is quite a lot of danger to the nearby states. (Which of course leads to the next part of the strategy, to play fire against fire and undermine an entire region.)
Which brings us to the War on Drugs and the decision to place Mexico into the role of hollowed-out state. John Robb points to this article:
Beheadings and amputations. Iraqi-style brutality, bribery, extortion, kidnapping, and murder. More than 7,200 dead-almost double last year's tally-in shoot-outs between federales and often better-armed drug cartels. This is modern Mexico, whose president, Felipe Calderón, has been struggling since 2006 to wrest his country from the grip of four powerful cartels and their estimated 100,000 foot soldiers.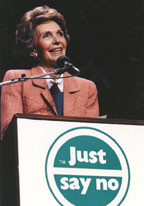 So, quite obviously if one understands the strategy, don't do this nearby. Do it far away. Reagan's famous decision to do this must have been taken on one his less memorable days ... no matter how the decision was taken on Mexico, now Reagan's chickens have cross the border to roost in mainland USA:
But chillingly, there are signs that one of the worst features of Mexico's war on drugs - law enforcement officials on the take from drug lords - is becoming an American problem as well. Most press accounts focus on the drug-related violence that has migrated north into the United States. Far less widely reported is the infiltration and corruption of American law enforcement, according to Robert Killebrew, a retired U.S. Army colonel and senior fellow at the Washington-based Center for a New American Security. "This is a national security problem that does not yet have a name," he wrote last fall in The National Strategy Forum Review. The drug lords, he tells me, are seeking to "hollow out our institutions, just as they have in Mexico."
Quite what is going on in these people's minds is unclear to me. The notion that it "has no name" is weird: it's the standard strategy with the standard caveat. They overdid the prescription, now the disease bounces back stronger, more immune, with a vengeance! Further, I don't actually think it is possible to ascribe this as a deliberate plot by the Mexican drug lords, because it is already present in the USA:
Experts disagree about how deep this rot runs. Some try to downplay the phenomenon, dismissing the law enforcement officials who have succumbed to bribes or intimidation from the drug cartels as a few bad apples. Peter Nuñez, a former U.S. attorney who lectures at the University of San Diego, says he does not believe that there has been a noticeable surge of cartel-related corruption along the border, partly because the FBI, which has been historically less corrupt than its state and local counterparts, has significantly ratcheted up its presence there. "It's harder to be as corrupt today as locals were in the 1970s, when there wasn't a federal agent around for hundreds of miles," he says.

But Jason Ackleson, an associate professor of government at New Mexico State University, disagrees. "U.S. Customs and Border Protection is very alert to the problem," he tells me. "Their internal investigations caseload is going up, and there are other cases that are not being publicized." While corruption is not widespread, "if you increase the overall number of law enforcement officers as dramatically as we have| - from 9,000 border agents and inspectors prior to 9/11 to a planned 20,000 by the end of 2009 - "you increase the possibility of corruption due to the larger number of people exposed to it and tempted by it." Note, too, that Drug Enforcement Agency data suggest that Mexican cartels are operating in at least 230 American cities.
By that I mean, the drug situation has already corrupted large parts of the USA governance structure. I've personally heard of corruption stories in banks, politics, police and as far up the pecking order as FINCEN, intel agencies and other powerful agencies. As an outside observer it looks to me like they've made their peace with the drugs a long time ago, heaven knows what it looks like to a real insider.
So I see a certain sense of hubris in these writings. This feels to me that the professional journalist did not want to talk about the corruption that has always been there (e.g., how else did the stuff get distributed before?). What seems to be happening is that now that Mexico is labelled in the serious press (*) as hollowed-out, it has become easier to talk about the problem in mainstreet USA because we can cognitively blame the Mexicans. Indeed, the title of the piece is The Mexicanization of American Law Enforcement:
And David Shirk, director of the San Diego-based Trans-Border Institute and a political scientist at the University of San Diego, says that recent years have seen an "alarming" increase in the number of Department of Homeland Security personnel being investigated for possible corruption. "The number of cases filed against DHS agents in recent years is in the hundreds," says Shirk. "And that, obviously, is a potentially huge problem." An August 2009 investigation by the Associated Press supports his assessment. Based on records obtained under the Freedom of Information Act, court records, and interviews with sentenced agents, the AP concluded that more than 80 federal, state, and local border-control officials had been convicted of corruption-related crimes since 2007, soon after President Calderón launched his war on the cartels. Over the previous ten months, the AP data showed, 20 Customs and Border Protection agents alone had been charged with a corruption-related crime. If that pace continued, the reporters concluded, "the organization will set a new record for in-house corruption."
Well, whatever it takes. If the US-Americans have to blame the Mexican-Americans in order to focus on the real problems, that might be the cost of getting to the real solution: the end of Prohibition. Last word to Hayden, no stranger to hubris:
Michael Hayden, director of the Central Intelligence Agency under President George W. Bush, called the prospect of a narco-state in Mexico one of the gravest threats to American national security, second only to al-Qaida and on par with a nuclear-armed Iran. But the threat to American law enforcement is still often underestimated, say Christesen and other law enforcement officials.
* Mind you, I do not see how they are going to blame the Mexicans for the hollowing-out of the mainstream press. Perhaps the Canadians?
Posted by iang at November 7, 2009 09:37 AM | TrackBack