Microsoft: the new IBM?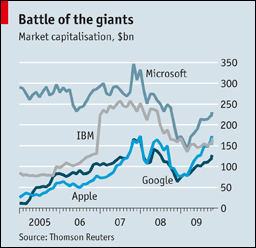 Microsoft has peaked and is on the way down. For those who watched the rise in the 1980s, and the domination in the 1990s, this is good news. It was a long wait.
In the aftermath of the failure of Vista, there is of course a lot of hand-wringing. Some talk about security, notably following CEO Steve Ballmer's admission:
Mr Ballmer said: "We got some uneven reception when [Vista] first launched in large part because we made some design decisions to improve security at the expense of compatibility. I don't think from a word-of-mouth perspective we ever recovered from that."
Let's go back to the basics. As I described in previous posts, the problem is that Microsoft is sitting on a 20 year legacy of insecurity (e.g., 1). Bill Gates recognised that the pre-Internet design assumption was heading into stormy weather, and to his credit tried to turn it around.
But, it turns out that it is easier to turn around a Blackbird than a supertanker, and even Ballmer's legendary energy didn't substantially challenge the Newtonian physics. I have to hand it to them, at least they tried!
The point isn't whether Vista was sunk by security issues (Schneier), or whether it was sunk by marketing & direction failures (as suggested by Mordaxus). This is backwards thinking. The strategic picture is that security issues had to succeed in order to save Microsoft's dominant position.
The fact now clear is that Vista failed, and this has consequences for Microsoft. Firstly the security problem is still there; so they will still have to figure that one out. But secondly, it still means that anyone concerned with security over the last decade has now had a long time to discover the solution. For the most part it is a mixture of (a) stick with old/simpler Microsoft systems, (b) switch to Mac as highlighted on this blog, or (c) switch to other more reliable (==secure) technologies like web-based, cloud,, smart-phone etc. Thirdly, while Microsoft was grappling with the problem, the PC-to-Internet equation of the 1990s has shifted. It is now a much different place.
Ultimately, it means the end of dominance for Microsoft. Like the year 1989 for IBM, the emergence of the credible alternates is no longer just hopeful talk, it is concrete. And a big correction is needed, and as seen in the chart on market caps, the market has done that over the last decade.
But unlike IBM in 1989, Microsoft does seem to know its fate. Bill Gates is the King, and he sealed his legacy by signalling this pain in a really big way back in 2002. So instead of a mass riot, a run for the bank, a complete collapse of confidence as we saw in 1989, it looks like we are now heading to a more regularised market in IT. The big players are now all within striking distance of each other. They all have some particularly strong territory, they all can defend their territory, and they can all look a the new stuff and wonder if they can get in for some of it. The IT market is now interesting again.
Welcome to the next decade!
Posted by iang at October 23, 2009 12:34 PM | TrackBack