"PINs, ATMs and liability" (London)
For those interested in chip & pin fallacies and the overall story of bank liability dumping, there is a talk in London, next month, 4th November:
"PINs, ATMs and liability"

The recent case of Job v Halifax plc (2009) in England has helped to highlight the concerns about the security and legal liability between the banks and their customers. This problem is not restricted to the UK, but is international in scope. This lecture will consider the problems in a wider context by providing a brief outline of the history of ATMs and PINs, the weaknesses, the liability regime and the legal framework in England & Wales. Consideration will also be given to the way the Supreme Courts of Austria, Germany and Lithuania have responded to the issue of liability, with a brief mention of the approach in the USA.
Wednesday 4 November 2009 6pm to 7pm

This is a big issue. The question of liability allocation has been staring us all in the face for some time, especially in the USA and UK. To a casual outside observer, it sometimes seems that banks implement security systems so as to pass all the liability to the user, rather than to share the benefit of the security. This of course has quite dramatic ramifications on security design, and can sometimes make matters rather worse than better, because it destroys the feedback loop between losses and the architect.
Vital statistics, and note the RSVP below.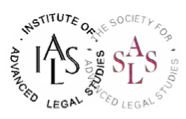 To be held at the Institute of Advanced Legal Studies, 17 Russell Square, London WC1B 5DR

Admission Free - All Welcome
If you wish to attend, RSVP to Belinda Crothers, IALS, Fax: 0207 582 5850. Email: IALS.Events AT sas.ac.uk

Posted by iang at October 19, 2009 02:15 PM | TrackBack