Denial of Service is the greatest bug of most security systems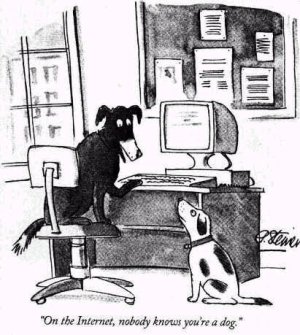 I've had a rather troubling rash of blog comment failure recently. Not on FC, which seems to be ok ("to me"), but everywhere else. At about 4 in the last couple of days I'm starting to get annoyed. I like to think that my time in writing blog comments for other blogs is valuable, and sometimes I think for many minutes about the best way to bring a point home.
But more than half the time, my comment is rejected. The problem is on the one hand overly sophisticated comment boxes that rely on exotica like javascript and SSO through some place or other ... and spam on the other hand.
These things have destroyed the credibility of the blog world. If you recall, there was a time when people used blogs for _conversations_. Now, most blogs are self-serving promotion tools. Trackbacks are dead, so the conversational reward is gone, and comments are slow. You have to be dedicated to want to follow a blog and put a comment on there, or stupid enough to think your comment matters, and you'll keep fighting the bl**dy javascript box.
The one case where I know clearly "it's not just me" is John Robb's blog. This was a *fantastic* blog where there was great conversation, until a year or two back. It went from dozens to a couple in one hit by turning on whatever flavour of the month was available in the blog system. I've not been able to comment there since, and I'm not alone.
This is denial of service. To all of us. And, this denial of service is the greatest evidence of the failure of Internet security. Yet, it is easy, theoretically easy to avoid. Here, it is avoided by the simplest of tricks, maybe one per month comes my way, but if I got spam like others get spam, I'd stop doing the blog. Again denial of service.
Over on CAcert.org's blog they recently implemented client certs. I'm not 100% convinced that this will eliminate comment spam, but I'm 99.9% convinced. And it is easy to use, and it also (more or less) eliminates that terrible thing called access control, which was delivering another denial of service: the people who could write weren't trusted to write, because the access control system said they had to be access-controlled. Gone, all gone.

According to the blog post on it:
The CAcert-Blog is now fully X509 enabled. From never visited the site before and using a named certificate you can, with one click (log in), register for the site and have author status ready to write your own contribution.
Sounds like a good idea, right? So why don't most people do this? Because they can't. Mostly they can't because they do not have a client certificate. And if they don't have one, there isn't any point in the site owner asking for it. Chicken & egg?
But actually there is another reason why people don't have a client certificate: it is because of all sorts of mumbo jumbo brought up by the SSL / PKIX people, chief amongst which is a claim that we need to know who you are before we can entrust you with a client certificate ... which I will now show to be a fallacy. The reason client certificates work is this:
If you only have a WoT unnamed certificate you can write your article and it will be spam controlled by the PR people (aka editors).

If you had a contributor account and haven't posted anything yet you have been downgraded to a subscriber (no comment or write a post access) with all the other spammers. The good news is once you log in with a certificate you get upgraded to the correct status just as if you'd registered.
We don't actually need to know who you are. We only need to know that you are not a spammer, and you are going to write a good article for us. Both of these are more or less an equivalent thing, if you think about it; they are a logical parallel to the CAPTCHA or turing test. And we can prove this easily and economically and efficiently: write an article, and you're in.

Or, in certificate terms, we don't need to know who you are, we only need to know you are the same person as last time, when you were good.
This works. It is an undeniable benefit:
There is no password authentication any more. The time taken to make sure both behaved reliably was not possible in the time the admins had available.
That's two more pluses right there: no admin de-spamming time lost to us and general society (when there were about 290 in the wordpress click-delete queue) and we get rid of those bl**dy passwords, so another denial of service killed.
Why isn't this more available? The problem comes down to an inherent belief that the above doesn't work. Which is of course a complete nonsense. 2 weeks later, zero comment spam, and I know this will carry on being reliable because the time taken to get a zero-name client certificate (free, it's just your time involved!) is well in excess of the trick required to comment on this blog.
No matter the *results*, because of the belief that "last-time-good-time" tests are not valuable, the feature of using client certs is not effectively available in the browser. That which I speak of here is so simple to code up it can actually be tricked from any website to happen (which is how CAs get it into your browser in the first place, some simple code that causes your browser to do it all). It is basically the creation of a certificate key pair within the browser, with a no-name in it. Commonly called the self-signed certificate or SSC, these things can be put into the browser in about 5 seconds, automatically, on startup or on absence or whenever. If you recall that aphorism:
There is only one mode, and it is secure.
And contrast it to SSL, we can see what went wrong: there is an *option* of using a client cert, which is a completely insane choice. The choice of making the client certificate optional within SSL is a decision not only to allow insecurity in the mode, but also a decision to promote insecurity, by practically eliminating the use of client certs (see the chicken & egg problem).
And this is where SSL and the PKIX deliver their greatest harm. It denies simple cryptographic security to a wide audience, in order to deliver ... something else, which it turns out isn't as secure as hoped because everyone selects the wrong option. The denial of service attack is dominating, it's at the level of 99% and beyond: how many blogs do you know that have trouble with comments? How many use SSL at all?
So next time someone asks you, why these effing passwords are causing so much grief in your support department, ask them why they haven't implemented client certs? Or, why the spam problem is draining your life and destroying your social network? Client certs solve that problem.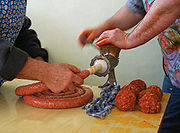 SSL security is like Bismarck's sausages: "making laws is like making sausages, you don't want to watch them being made." The difference is, at least Bismark got a sausage!
Footnote: you're probably going to argue that SSCs will be adopted by the spammer's brigade once there is widespread use of this trick. Think for minute before you post that comment, the answer is right there in front of your nose! Also you are probably going to mention all these other limitations of the solution. Think for another minute and consider this claim: almost all of the real limitations exist because the solution isn't much used. Again, chicken & egg, see "usage". Or maybe you'll argue that we don't need it now we have OpenID. That's specious, because we don't actually have OpenID as yet (some few do, not all) and also, the presence of one technology rarely argues against another not being needed, only marketing argues like that.
Posted by iang at October 19, 2009 10:47 AM | TrackBack