My fake passports and me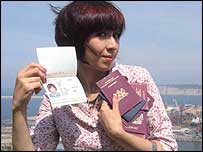 Rasika pointed to a serious attempt to research false passports for all of EUs countries by Panorama, a British soft-investigation TV series:
I am attending an informal seminar led by a passport dealer, along with six hopefuls who are living illegally in the UK. We are told that all our problems can be solved by a "high quality" Czech passport. It will take just two weeks to obtain and cost a mere £1,500.

This may already sound surreal enough, but it was just the beginning of my journey across Europe in search of fake passports from all 25 EU member states.
What's lacking here is hard costs of the passports she actually did obtain. That's why it is soft investigation.
I am directed to somebody who introduces me to somebody else, and finally I end up face to face with two innocent-looking pensioners. They say that for just 300 euros they can get me a Polish passport in less than 24 hours.

This deal falls through, but another dealer has delivered Polish and Lithuanian passports, complete with my own photos and two different identities.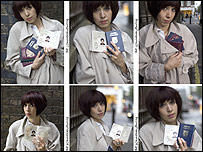 But the breadth of the success makes it worthy of reporting:
It took me just five months to get 20 fake EU passports. Some of them were of the very best quality and were unlikely to be spotted as fakes by even the most stringent of border controls.
This is probably a good time to remind FC readers that you can find a long running series on the cost of false identity, taken from news articles that specify actual costs, here in the blog. Also note that on the Panorama show there is a video segment, but it is in a format that I cannot read for some reason.
Update: in one of the accompanying articles:
They ranged in price from just #250 to more than #1,500. Some were provided within several days, while others took weeks.
(Currency is unclear, it was shown as #.) Also, from one of the accompanying articles:
Police believe they were on the brink of producing 12,000 fake EU passports - potentially earning them £12m, when they were arrested in November 2005. .... Det Insp Nick Downing, who led the investigation, said the passports could have sold for up to £1,000 each.
Same as FC.
Posted by iang at October 25, 2007 06:59 AM | TrackBack