Identifying as an artist - using artistic tools to generate your photo for your ID
Copied without comment:
Artist says he used a computer-generated photo for his official ID card
A French artist says he fooled the government by using a computer-generated photo for his national ID card.
Raphael Fabre posted on his website and Facebook what he says are the results of his computer modeling skills on an official French national ID card that he applied for back in April.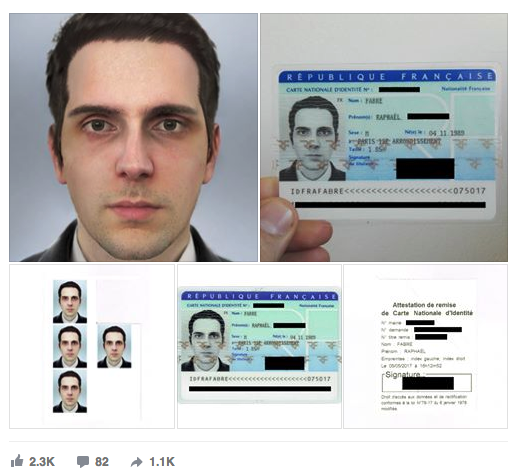 Le 7 avril 2017, j'ai fait une demande de carte d'identité à la mairie du 18e. Tous les papiers demandés pour la carte étaient légaux et authentiques, la demande a été acceptée et j'ai aujourd'hui ma nouvelle carte d'identité française.

La photo que j'ai soumise pour cette demande est un modèle 3D réalisé sur ordinateur, à l'aide de plusieurs logiciels différents et des techniques utilisées pour les effets spéciaux au cinéma et dans l'industrie du jeu vidéo. C'est une image numérique, où le corps est absent, le résultat de procédés artificiels.

L'image correspond aux demandes officielles de la carte : elle est ressemblante, elle est récente, et répond à tous les critères de cadrage, lumière, fond et contrastes à observer.

Le document validant mon identité le plus officiellement présente donc aujourd'hui une image de moi qui est pratiquement virtuelle, une version de jeu vidéo, de fiction.
Le portrait, la planche photomaton et le récépissé de demande ont été montrés à la Galerie R-2 pour l'Exposition Agora

On April 7, 2017, I made a request for identity card at the city hall of the 18th. All the papers requested for the card were legal and authentic, the request was accepted and I now have my new French Identity Card.

The Photo I submitted for this request is a 3 D model on computer, using several different software and techniques used for special effects in cinema and in the video game industry. This is a digital image, where the body is absent, the result of artificial processes.

The image corresponds to the official requests of the card: it is similar, it is recent, and meets all the criteria for framing, light, background and contrast to be observed.

The document validating my most official identity is now an image of me that is practically virtual, a video game version, fiction.

The Portrait, the photo booth and the request receipt were shown at the r-2 Gallery for the Exposition Agora
The image is 100 percent artificial, he says, made with special-effects software usually used for films and video games. Even the top of his body and clothes are computer-generated, he wrote (in French) on his website.
But it worked, he says. He followed guidelines for photos and made sure the framing, lighting, and size were up to government standards for an ID. And voila: He now has what he says is a real ID card with a CGI picture of himself.
"Absolutely everything is retouched, modified, and idealized"
He told Mashable France that the project was spurred by his interest in discerning what's artificial and real in the digital age. "What interests me is the relationship that one has to the body and the image ... absolutely everything is retouched, modified, and idealized. How do we see the body and identity today?" he said.
In an email, he said that the French government isn't aware yet of his project that just went up on Facebook earlier this week, but "it is bound to happen."
Before he received the ID, the CGI portrait and his application were on display at an Agora exhibit in Paris through the beginning of May.
Now, if the ID is real, it looks like his art was impressive enough to fool the French government.
Posted by iang at June 16, 2017 05:21 AM