Casebook for a disaster: google's BebaPay and why it is wrong, wrong, wrong
USA press are starting to poke fun at BebaPay, the google payment system for Kenya's mass transit buses called matatus.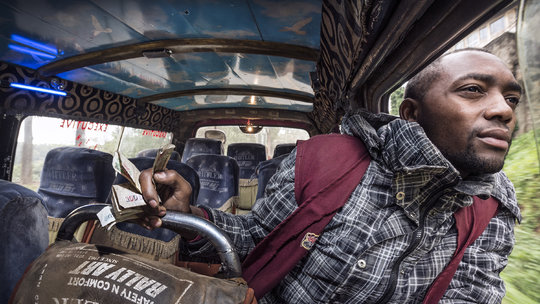 Now the secret's out. BebaPay is a casebook study in how not to do a payment system, but it is still a bit of a challenge to try and show why. This is an effort in as few of my words as I can.
Teaser:
Hitler is a matatu, electric raspberry in color, one of the thousands of minibuses that serve as Nairobi's subway system. ... Hitler has been misbehaving lately, refusing to adopt a new technology that could revolutionize one of East Africa's most lawless and lucrative cash-based industries.

Google, which some could argue also has a funny, funny name, has been pushing the new technology: a little green transit card that will replace cash payments and track every transaction on the minibuses, ...
Hitler, owned by someone who hasn't heard of Godwin's Law, is typical of mass transit in Africa. Google wants them to take BebaPay, a smart card (NFC) payments solution, instead of that filthy cash stuff.
Clue:
... owners typically demand from the crews a flat fee for using their buses for the day, the drivers and conductors squeeze every cent they can from passengers by stuffing them in as tightly as possible and getting them to their destination at deadly speed. ... If a cop stops a matatu for speeding or overloading, no problem. The driver just shoves a fistful of Kenyan shillings out the window.
In short: cash-based opportunities for corruption, "kitu kidogo," Swahili for "a little something" means the market will fight it, not adopt it. The players will sabotage it.

The journo spotted it, why didn't google?
The idea to use technology to tackle the matatu problem started on a rainy day a couple of years ago when some executives at Google were staring out their plate-glass windows at the matatus stacked up on Uhuru Highway, watching passengers pay double for a ride (matatus always jack up fares on rainy days). The Google executives said, What about a transit card?
They invented it in a glass fishbowl. It's as if the 'google executives' didn't go for a matatu ride, or if they did, they closed their eyes and prayed for a quick return.
Surely wiser heads warned?
"People thought Google was crazy to go into Kenya's transport sector," said Dorothy Ooko, an executive at Google's 40-person office in Nairobi. "When we first got involved, nobody wanted to touch this."
Why didn't they listen? Or at least try and figure out the market, and enter into positive part of it, not a part that will deliberately and systematically sabotage their every step?
One answer is written on the side of another matatu I saw in Nairobi, literally. Unfortunately I couldn't get my android to camera-mode fast enough, but I believe I have the words memorised:
Unless your name is google, stop acting like you know everything
Please, someone, anyone, send me a snap of it!
(Postscript: Bebapay shuts down.)
Posted by iang at July 17, 2014 06:49 AM | TrackBack