Why I am a fan of Alan Greenspan, still.
In comments to the last post, Glyph poses a hard question:
I'm curious: why, at this point, would you be a fan of Alan Greenspan?

He's the epitome of everything that went wrong with our financial system: a demagogue who substituted ideology for critical thought. He spoke as if he were an entrepreneur who understood the creation of real wealth by use of the free market, but whose real power and influence came from being a bureaucrat with the keys to the largest fiat money machine in the history of mankind.
...
A simple answer is found in rephrasing the question -- what is the alternative?
Let me expand on that. I'm not a fan of Central Banking, as many readers will know from my frequent posts. I see Central Banking as inevitably enslaved to the banks, the regulated consumes the regulator (something known in economic literature as the Stigler Conjecture).
But the realpolitik of the 20th century was that Central Banking was the structure of finance. Granted, that we have a central bank, who then is best to lead it?
In the trade, knowledge of monetary policy would probably stand out as the first and highest metric. But, also known as important to Central Banking is the quality of "independence".
Alan Greenspan was a notorious goldbug who became a boutique investment banker. He retained his suspicion of all fiat currencies until the end, and it is this skepticism of Central Banking that established his credentials as an independent thinker. In my book, picking someone who was already suspicious of Central Banking was probably an inspired choice, and this is borne out by his incredibly long career.
If we look for example at Mark Carney, the current most-talked about Central Banker who last month took post at the Bank of England, we see something of the same flavour. He is suspicious of banks by nature, as well as having been a banker with Goldman-Sachs. As I hear it, his time in Canadian public service was marked by keeping the banks on a tight leash, while those south of the border ran roughshod.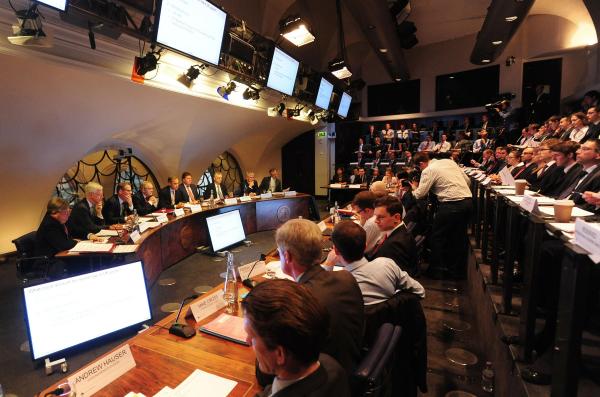 To paraphrase the above, Mark Carney thus represents a least bad choice among many worse choices. Need we present examples of the worse choices?
The fundamental problem is still the failure of Central Banking, and its history of protecting the TBTFs and allowing them to bring the system down.
It would be far better if we as a society and economy could ease away from Central Banking, TBTF and all that, but that is likely to take decades. In the meantime, who better to lead Central Banks than people naturally suspicious of banks?
Posted by iang at July 1, 2013 04:18 AM | TrackBack