What makes financial cryptography the absolutely most fun field to be in?
Quotes that struck me as on-point: Chris Skinner says of SEPA or the Single-European-Payment-Area:
One of the key issues is that when SEPA was envisaged and designed, counterparty credit risk was not top of the agenda; post-Lehman Brothers crash and it is.
What a delight! Oh, to design a payment system without counterparty risk ... Next thing they'll be suggesting payments without theft!
Meanwhile Dan Kaminsky says in delicious counterpoint, commenting on Bitcoin:
But the core technology actually works, and has continued to work, to a degree not everyone predicted. Time to enjoy being wrong. What the heck is going on here?

First of all, yes. Money changes things.

A lot of the slop that permeates most software is much less likely to be present when the developer is aware that, yes, a single misplaced character really could End The World. The reality of most software development is that the consequences of failure are simply nonexistent. Software tends not to kill people and so we accept incredibly fast innovation loops because the consequences are tolerable and the results are astonishing.

BitCoin was simply developed under a different reality.

The stakes weren't obscured, and the problem wasn't someone else's.

They didn't ignore the engineering reality, they absorbed it and innovated ridiculously
Welcome to financial cryptography -- that domain where things matter. It is this specialness, that ones code actually matters, that makes it worth while.
Meanwhile, from the department of lolz, comes Apple with a new patent -- filed at least.
The basic idea, described in a patent application "Ad-hoc cash dispensing network" is pretty simple. Create a cash dispensing server at Apple's datacenter, to which iPhones, iPads and Macs can connect via a specialized app. Need some quick cash right now and there's no ATM around? Launch the Cash app, and tell it how much do you need. The app picks up your location, and sends the request for cash to nearby iPhone users. When someone agrees to front you $20, his location is shown to you on the map. You go to that person, pick up the bill and confirm the transaction on your iPhone. $20 plus a small service fee is deducted from your iTunes account and deposited to the guy who gave you the cash.
The good thing about being an FCer is that you can design that one over beers, and have a good belly laugh for the same price. I don't know how to put it gently, but hey guys, don't do that for real, ok?!
All by way of saying, financial cryptography is where it's at!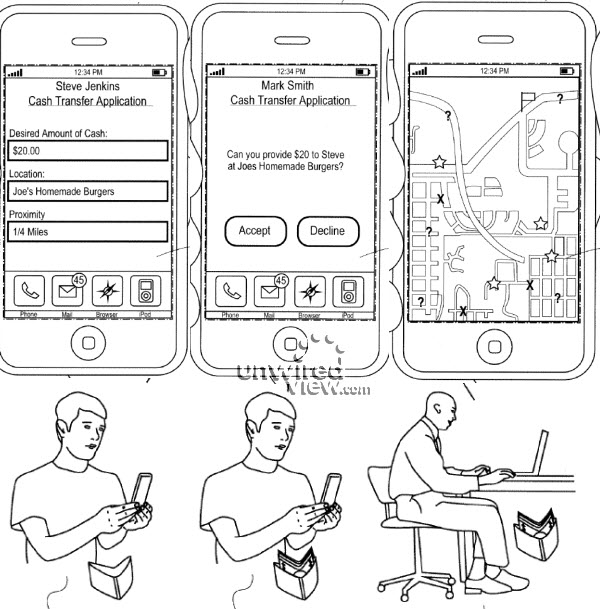 Posted by iang at May 6, 2013 03:20 PM | TrackBack