What caused the financial crisis. (Laying bare the end of banking.)
Another month, another mini-crisis. Many banks remain in trouble, many countries too, adding weight to the claim that we're not through yet. Say hello, double dip, or depression. Whatever the economists end up calling it, it will be with us for a few years yet.
For what it's worth, I'd suggest this will be a 10 year story. Today's news is about Ireland, yesterday we were in Greece, tomorrow it will be another fun travel destination, where our money will buy more, as long as it's not us.
Each of those countries are looking at scenarios that will be a decade minimum to work through, to pay off their debt.
What does that make a citizen think?
Whatever you think about your national profits for the next decade being expropriated for the sins of your fathers, it seems to make sense to take more than ordinary care, and to sort it out properly this time. This one isn't the localised moral hazard of the S&L crash, it isn't the Asian Financial story of dominos too cozy, it isn't the Russian panic, nor LTCM.
Those were regular, this one's exceptional. This is more like the Japanese experience, on an OECD scale, or the Great Depression. Both things which were at their root central banking crises.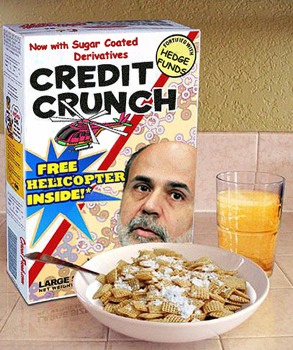 So what's the cause? It does all seem to be a bit bemusing as theory after damnable theory goes wafting by, and still we don't see the end of the crisis. Theories I've seen and dismissed as mere symptoms:
derivatives blowup
greed, pure filthy evil greed
incentives for (greedy, evil) bankers
cost of wars and other remote adventures
regulatory intervention
Sarbanes-Oxley and the death of a thousand cuts
BIS's capital ratio and how nobody paid attention
repeal of Glass-Steagall
the shift away from dollar as reserve supremo
rating agency fraud
There is one and only one underlying cause for this crisis. It's the thing that answers everything, and the thing that nobody wants to talk about. It's the massive shift in structural nature of the business that took 30 years to develop, and suddenly everyone's caught by surprise.
It's banking, or more precisely, it's
the end of banking, as we know it
(Which is why I wrote a long post on what banking is.) Banking is no longer essential to society because there is now another method to achieve what banking achieves. That is, we now have two methods to distribute society's savings on the stage of the economy: from small-left to big-right, as it were. Both methods work, but the new method has advantages that will make it dominate over time.
The new method is called:
securitization
It's new, because it was invented in the USA in 1970 (hence the Z). While it is pretty simple to describe, it is (arguably) complex to see:
take say 1000 vertical loans to people such as housing mortgages,
aggregate them up into a huge single fund (essentially, a company that handles the cash flow from the loans)
then slices the fund up horizontally into say 5000 shares
sell the shares!
new shareholders are paid the a tiny slice of each mortgage, until term.
I'll leave it as an exercise for the reader to compare how that relates to banking, and just skip to the essence of the shift from the definition of banking: term. The bank can "originate" these loans to the 1000 customers, aggregate them into a fund, slice the fund into shares, and sell the shares.
Here's the clanger: At this point, the bank has sold off the loans to other investors, which means the bank has sold off the risk.
After this point, the bank is no longer in the risk business! What's more, it can do this in 100 days and under. Which means it is no longer in the term business either.
Which means, the bank and those loans are no longer at risk of the economy. Nor a run. In fact, the bank need no longer be in the risk business at all, because it can sell off all its risk. To a market. As the ever-popular Prof Ferguson puts it: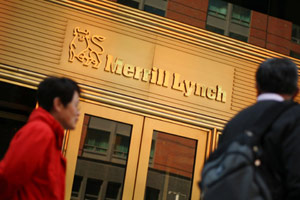 These changes swept away the last vestiges of the business model depicted in It's a Wonderful Life. Once there had been meaningful social ties between mortgage lenders and borrowers. James Stewart's character knew both the depositors and the debtors. By contrast, in a securitized market the interest you paid on your mortgage ultimately went to someone who had no idea you existed. The full implications of this transition for ordinary homeowners would become apparent only 25 years later.
Which means, anyone doing business in securitization is not doing banking.
Now go back to the structure of the banking industry. I showed that the structure, and the regulation, was predicated on the risk inherent in the term structure of banking loans.
As banks are no longer taking on that risk, the structure is no longer required. That is, central banking is no longer useful to the economics of banking, and regulation based on public policy interests and lender of last resort issues is therefore unfounded.
Which further means the regulation is probably (almost certainly) wrong, the incentives are mismatched, the risk analysis is unnecessary, ... on and on it goes. Add in a dash of technology like the Internet, cryptography, and disintermediation (think Zopa or microfinance) and the mix is heady, and unstoppable.
Banks are not doing banking any more, so trying to make them act like they were doing banking is not helpful, it is harmful. In economics terms, there is a fundamental shift:
from banking to markets
But the world is still treating banks as if they do banking. From Basel-3 on down:
But on one point Pandit [Vikram Pandit, CEO of Citigroup] cannot be challenged. Since the promulgation of Hammurabi's Code, in ancient Babylon, no advanced society has survived without banks and bankers. Banks enable people to borrow money, and, today, by operating electronic-transfer systems, they allow commerce to take place without notes and coins changing hands. They also play a critical role in channelling savings into productive investments.

...
When the banking system behaves the way it is supposed to - as Pandit says Citi is now behaving - it is akin to a power utility, distributing money (power) to where it is needed and keeping an account of how it is used. Just like power utilities, the big banks have a commanding position in the market, which they can use for the benefit of their customers and the economy at large.
So the regulators are making mistakes, a steady series of them. Says TheFinanser's Chris Skinner in evident disgust at the BIS's numberitis:
Hmmm ... HBOS had a higher Tier I Capital Ratio than Lloyds TSB in 2008; Alliance & Leicester and Bradford & Bingley were well above the BIS requirements; RBS is particularly well capitalised; and Northern Rock appeared to have no issue in 2007, as mentioned.

And yet, these are all the failed banks of Britain!

This Tier I Capital Ratio measure ain't that good is it?
The rules of the financial world have changed, the structures have not.
In particular, banks are off-the-hook for term failures, but they still make money as if they were on-the-hook. Hence, as banks and other participants discovered that securitization was a licence to print money (because the risk had been sold off to others in the funds markets) what happened?
Everyone dived madly into subprime. Everyone made money! Appetite for risk went sky high, because ... the risk was sold off to the market, and all that was left was the fees! Hence, we had a bubble of risk off-selling in many forms which ultimately led to the global financial crisis.
(You're probably wondering why the banks got so stuck when they had sold off their risk. It may be because <drumroll> they also bought securitized assets from the same markets that they'd sold into! </tara> Outstanding shift from Banking to Speculators, further exercise left for reader, look to the definition of banking again!)
Nobody in the world of banks dares admit it, because the money is too good. But it can't last, and some are wise to the game. Prof. Ferguson pointed to a speech by Mervyn King:
Mervyn King, governor of the Bank of England, called on Tuesday night for banks to be split into separate utility companies and risky ventures, saying it was "a delusion" to think tougher regulation would prevent future financial crises.

Mr King's call for a break-up of banks to prevent them becoming "too important to fail" puts him sharply at odds with the direction of domestic and international banking reform.
What's the new world, where banks are no longer needed to do banking? Well, smaller, more purpose-limited ventures is one good start. "Utilities" is a good word. Expect to see more of this sort of proposal.
But, don't expect to see anyone agree that it's the end of banking, as that is still too politically untenable.

---


What caused the financial crisis. (Laying bare the end of banking.)




(Introducing the death of the partner and the central bank as turbocharger as 2 new causes)
Posted by iang at November 27, 2010 09:50 PM | TrackBack