GP4.3 - Growth and Fraud - Case #3 - Phishing
We would be remiss if we didn't also measure the theory of GP (GP1, GP2, GP3) against that old hobby horse, phishing.
When ecommerce burst on the scene as an adjunct to browsing, it pretty quickly emerged as "taking credit card orders over the net." This took off fairly easily as the FORM in HTML allowed ready collection of these data, and many existing credit card merchants simply shipped as if the new orders were MOTO - mail-order/telephone-order ones.
There were a few niggles around though. Security was thought to be a bit loose, as all these credit cards were flashing around on the open net. Compare this to the existing usage where credit cards were handed over to waiters and waitresses for copying back at the counter, or where orders taken over telephone resulted in goods generally being shipped to billing addresses, and it was either scary or not scary, depending on how closely you really understood the cycle. Nobody ever showed that credit cards were being snooped on the net, although telnet passwords were being scarfed up in large numbers (a threat that led separately to the development of hyper-successful SSH) so we can see here the seeds of a GP-problem.
Obviously a little crypto would have helped, and SSL in its first version ("v1") was duly floated to the crypto community sometime in 1994. All things being equal, this would have been acceptable to deal with the potential of fraud, but not all things were equal. In fact, so many things were not equal that this minor case has become what amounts to a major history lesson.
In order to understand SSL it is necessary then to digress and understand the environment of the times. I present this as forces, a sort of institutional approach from economics (c.f., Michael Porter's Five Forces analysis). Here's the list of forces that were pushing around in 1994:
Netscape's stellar growth, capped by the dotcom fairy story of their IPO, had put Netscape firmly in the driver's seat of ecommerce. Unfortunately, they couldn't sell their flagship product because they had set a price tag of $50 for the browser but nicely left it free for personal use or somesuch. (As events were to show, Microsoft simply boxed them in by shipping their browser for free. Only Microsoft could afford to win that battle.) Force: Netscape needed big friends, big products, big revenues and something to spend its IPO cash on. Result: the pressure was on the ecommerce division to save Netscape's bacon.
Porn! Insiders report that fully half of early SSL use was by adult sites which needed to reduce the risks of delivering the product to the wrong party. Paying for certs or secured servers was chicken feed compared to being shown to deliver to the wrong "customer." However, what they didn't want was the load that ground their servers into the dust - megabyte images being far different animals to kilobyte credit card transfers. Hence, cue in some early hard engineering questions: load balancing, page caching, proxy servers, page pre-loading from customers who's interest in security was unusual and unpredicted.
Fear and Loathing and the Payments Industry. The credit card companies were scared witless by the arisal of new payment companies like First Virtual (a sort of forerunner to PayPal) and before them, DigiCash, and lobbied to anyone who would listen to get some 'protection' for ecommerce. One idea that they liked was the certificate, that some had mused on as being the "missing link" in the security of SSL. Better yet, those that controlled lots of merchants (MCI and AT&T in this case) could envisage delivering the certificates to the merchants, and leaving the outsiders to fend for themselves; in other words, a classic barrier to entry. But it also appealed to Netscape because pushing certificates not only boosted sales of their secure server, it maintained their control over the protocol and found them some great new friends. Briefly.
The crypto wars! The protagonists were the United States government in the person of Loius Freeh on the one hand and the network libertarians on the other. Although the USG was prepared to compromise on weak crypto which would have been fine for ecommerce, this wasn't good enough for the cypherpunks. Nothing short of complete freedom to implement super-strong crypto against any threat for any application was anything short of acceptable. As a side-effect to their religious war against "national technical means," any merchant who implemented anything short of 100% absolutely secure no risk guaranteed and certified crypto was hit by the indiscriminate pogrom of the free crypto crowd; the result of this "all or nothing" security approach was more often nothing than all.
Hence another short footnote in the history of ecommerce arrived in the form of SSL being required to run at full crypto strength against the man who wasn't in the middle and against Eve who wasn't listening. Unfortunately, the machines of the time were not strong enough to push through sessions fast enough. Inevitably, as nothing short of full strength was adequate, and certs and triple DES were dimming the lights of ecommerceville by about 80-90%, the security space again split into SSL-mode for collecting credit cards and non-SSL mode for the rest. This made security itself inordinately difficult, as in classical military terms, there was now a gap between security models through which to attack, and security itself was now firewalled off from the main shopping process.
The US Department of Defense's "COTS" dream. In the 90s, the DoD procurement monolith took on a new mission. In brief, they decided to offset their R&D costs onto general society, and move to purchasing commercial off-the-shelf equipment, albeit directed towards government needs. The unwritten offer given to suppliers like Netscape was to sell DoD standard COTS software, split off portions of the revenue stream at appropriate points to fund government-specific development, and then sell DoD "COTS" with additional new "GOTS" features. Recalling that the US government was the single largest source of Netscape revenues, this was no small offer!
The NSA's PKI dream. The American spook community decided to bet the farm on PKI as a way to slip into place a crypto regime dependent on a pre-rigged infrastructure. In perhaps following the COTS dream of their peers over at DoD, NSA pushed procurement into the direction of requiring and acquiring large PKI structures and they pushed certain suppliers - you know who I mean - into valuable PKI nodes and roles so as to make sure the(ir) infrastructure was in place. The theory was that this would then explode into life, we'd all "get PKI" religiously and then find ourselves hooked.
The DoJ's non-repudiation dream. Some legal people (and not a few techies) believed that a digital signature was in some ways analogous to a human signature. They reasoned that if they could get the non-repudiation aspects slipped into the Internet, they'd be able to control and prosecute the criminals to come. This meant laws, structure, authorities, and above all, control.
Identity Solves Every Security Problem. Once people realised that the certificate was like an identity, business plans bloomed like a thousand flowers based on the right to sell these identities back to their owners. Billion dollar cash flows based on the ability to sell a $100 cert to 100 million Americans floated around Wall Street. We say in (real) warfare that no plan of battle survives the first shot, etc etc, and in relatively short order, the certificate authority space was turned upside down by competitors diving in and demanding access. Netscape lost control of the space, and made all CAs equivalent so it wasn't seen to favour anyone. Inevitably, this reduced the security of the system to where certificates acquired popup-avoidance status, because there was no differentiation and certificates became a bottom-feeding business.
The patent wars! RSADSI and Cylink were engaged in battle over public key crypto standards. Also sparring was NIST with DSA and that Canadian company with EC. Ultimately won by RSA, this also saw a whole bunch of weird and wonderful licensing agreements forced on customers. No points for guessing what features were withheld in the licences offered to which customers!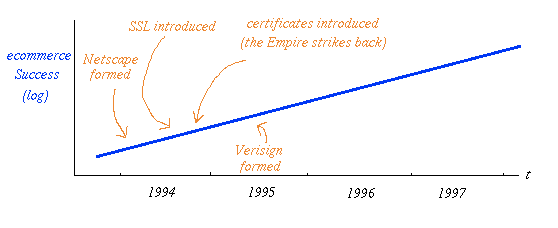 fig 8. the Battle for Ecommerce
Heady stuff for conspiracy theorists! Now, the beauty of the above forces is that they don't all have to be true even though I believe them to be fair if one-sided representations. Sufficient of these forces still sum to a statistically relevant picture. We can reach the conclusions we need, so let's go there right now.
In the face of all these pressures, Netscape found itself adding certificate-based protection with a new upgraded form of SSL called v2. (Even SSL v2 was a little loose, so they quickly hired an external consultant to come in and do v3, although that form of SSL still hasn't properly deployed in your default secure sessions as yet, so it must have been OK to secure ecommerce with v2!)
The end result was the balkanisation of the Internet's security space. Various large and famous companies carved up the space amongst them and created the CA structure that we know today. Certificates went from full-PKI-wholesome-trust mode to popup-avoidance certificate manufacturing mode in the blink of a venture capitalist's eye. Verisign made out like bandits on the stock market. The USG chipped in with some worry about enemies of the state, and forced a mishmash of cipher suites and options and above all, the certificates that a dozen agencies put so much store by. The cypherpunks added their "all or nothing" politics to the mix and created the "all and nothing" nightmare. Netscape themselves were soon embroiled in a bid for survival as Microsoft defeated them on their own ground and went on to all but own ecommerce space. And out in ecommerceville itself, they ruined the security by breaking the model down the center.
So what was all that about, in summary form? SSL v1 was put in place for a predicted, but so far unvalidated threat. The lack of focus on a clear validated threat left the space vulnerable to capture - and SSL v2 duly became the battle ground of many, none of whom had much concern about security of the browser users' sessions but were quite willing to use it as a cassus belli in the war against someone or other.
The question that I often pondered on was why certificates were added to SSL. From a technical pov, they are too expensive for the mission, too heavy. Now that I've investigated the forces and listed them out, I can see the error of my ways - obviously this had nothing to do with security, and the question is best off couched as "how could Netscape have possibly avoided putting a certificate-based PKI into the security protocol?" And that's the conclusion we need: there is no way they could have avoided it. The forces were just too strong.
Back to security. A little-known small-time fraud turned up with the name of phishing. Originally, this was a very crude and old claims scam on AOL, where the A.O.Lusers were sold some bogus product and had their credit cards re-used elsewhere. By the time AOL had been all phished out, the model was well understood and well tested, so it was natural to start somewhere else.

fig 9. the Battle of Online Banking
Fast forward to the new millenium, and that somewhere else was online payment systems and banks. I.e., where the money is. The first known phishing attack on a financial operator was June 2001 against e-gold. Delivered using spam techniques, users were tricked into entering their passwords into near-enough websites. And it was here that the browser security model was first challenged and failed within moments. The one thing that the certificate was supposed to do was tell the user that they were on the right site, plus or minus some details. But by the time the attackers arrived, the security model had been so abused by other agendas that it wasn't capable of putting up a fight against a real criminal.
Worse, the huge infrastructure that had been built up - crypto libraries, protocol libraries, browser manufacturers, web server manufacturers, standards committees, certificate authorities, auditors, audit standards models, digital signature laws, PKI rollouts and a cast of a thousand onlookers - proved itself simply incapable of accepting the threat for what it was - a successful attack on the browser's security model.
We're still there - working with a security model that was envisaged as a nice quick and dirty fix for credit cards in the first instance, in the second instance squabbled over by a bunch of disparate interests, and in the third instance broken like a child's toy sword the day after Christmas when the first bully turned up and wacked it with a stick. Worse, in the fourth instance, phishing has invested its proceeds and diversified into the trojan / malware and data breach spaces so any fixes delivered are not going to stem the tide of red ink losses.
It might be hard to tell when GP was reached in ecommerce. But the real underlying conclusion to draw from this case is this: do not put the security model in place too early! In the case of phishing by the time the model was needed, it was incapable of protecting and of adjusting against the threat. The cost to this impatience can be measured by integrating the red curve in fig. 9 - it's all the area under the curve.
---
This case study concludes the story of Growth and Fraud:
Posted by iang at December 30, 2005 07:51 PM | TrackBack