Fans of Threat Modelling reach for their guns ... but can they afford the bullets?
Over on New School, my threat-modelling-is-for-birds rant last month went down like a lead balloon.
Now, I'm gonna take the rap for this one. I was so happy to have finally found the nexus between threat modelling and security failure that has been bugging me for a decade, that I thought everyone else would get it in a blog post. No such luck, schmuck. Have another go!
Closest pin to the donkey tail went to David, who said:
Threat modeling is yet another input into an over all risk analysis.
Right. And that's the point. Threat modelling by itself is incomplete. What's the missing bit? The business. Look at this gfx, risk'd off some site. This is the emerging 31000 risk management typology (?) in slightly cut down form.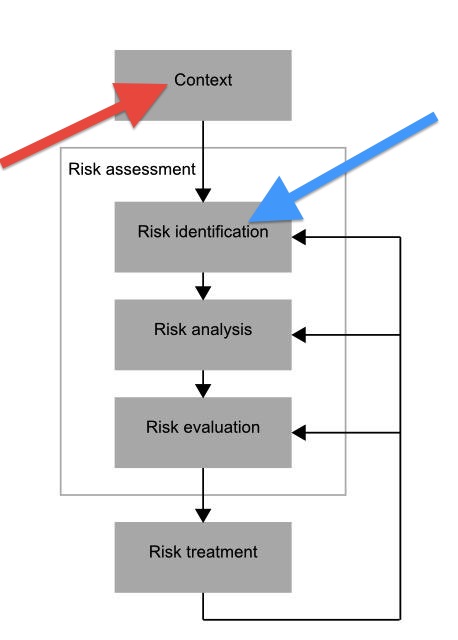 The business is the 'context' as shown by the red arrow. When you get into "the biz" you discover it's a place of its own, a life, a space, an entire world. More pointedly, the biz provides you with (a) the requirements and (b) a list of validated threats. E.g., history, as we already deal with them.
The biz provides the foundation and context for all we do - we protect the business, without which we have no business meddling.
(Modelling distraction: As with the graphic, the source of requirements is often painted at the top of the diagram, and requirements-driven architecture is typically called top-down. Alternatively and depending on your contextual model, we can draw it as a structural model: our art or science can sit on top of the business. We are not lifting ourselves up by our bootstraps; we are lifting the business to greater capabilities and margins. So it may be rational and accurate to call the business a bottom-up input.)
Either way, business is a mess, and one we can't avoid. We have to dive in and absorb, and in our art we filter out the essence of the problem from the business into a language we call 'requirements'.
Then, the "old model" of threat modelling is somewhere in that middle box. For sake of this post, turn the word risk into threat. Follow the blue arrow, it's somewhere in there.
The point then of threat modelling is that it is precisely the opposite of expected: it's perfect. In more particular words, it lives without a context. Threat modelling proceeds happily without requirements that are grounded in a business problem or a customer base, without a connection to the real world.
Threat modelling is perfect by definition, which we achieve by cutting the scope off at the knees.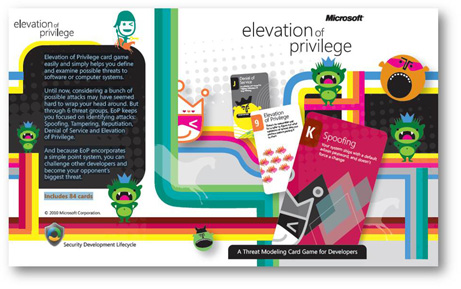 Bring in the business and we get real messy. Human, tragic. And out of the primordial swamp of our neighbors crawls the living, breathing, propogating requirements that make a real demand on us - survival, economy, sex, war, whatever it is that real people ask us for.
Adam talks about Spoofing, Tampering, Repudiation, Information Disclosure, Denial of Service and Elevation of Privilege... which sounds perfect. And I'd love to play the game :)
But real life is these things: insider trading, teenager versus teenager versus parent versus parent, revolutions of colour, DVD sharing, hiding in plain sight, movement tracking of jealous loved ones, don't ask, don't tell, whistleblowing, revenge,...
Which philosophy of business context first and foremost also explains a lot of other things. Just by way of one example, it gives an essential clue as to why only end-to-end security is worth anything. Application security automatically has a better chance of including the business; point-to-point designs like IPSec, SSL, DNSSec, etc have no chance. They've already handwaved anything past the relevant nodes into utter obscurity.
Posted by iang at March 17, 2012 05:54 PM | TrackBack