Identity is the New Money -- new book from Dave Birch
As many know, I'm in the business of building a new Identity framework wrapped around a cryptocurrency issuance infrastructure for social networks (in geek terms). Because I'm in this space directly, Dave Birch's new book entitled Identity is the New Money can be copied without hesitation! The only disagreement we might both agree on is why has it taken so long for people to understand the role of identity and money? Read on:
---
Identity is the New Money
£7.99 (including free P&P within the UK)
This book will be published in late April 2014. Please click "Add to cart" above to pre-order a copy.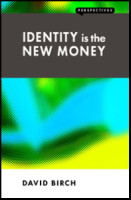 David G.W. Birch is an internationally recognised thought leader in digital money and digital identity. In 2013 he was named one of WIRED magazine's global top 15 favourite sources of news from the world of business and finance and was ranked the number 1 influencer in European emerging payments by Total Payments magazine. He is a Director of Consult Hyperion, the technical and strategic consultancy that specialises in electronic transactions.
This book – which will be published in late April 2014 – argues that identity is changing profoundly and that money is changing equally profoundly. Because of technological change the two trends are converging so that all that we need for transacting will be our identities captured in the unique record of our online social contacts. Social networks and mobile phones are the key technologies. They will enable the building of an identity infrastructure that can enhance both privacy and security – there is no trade-off. The long-term consequences of these changes are impossible to predict, partly because how they take shape will depend on how companies (probably not banks) take advantage of business opportunities to deliver transaction services. But one prediction made here is that cash will soon be redundant – and a good thing too. In its place we will see a proliferation of new digital currencies.
Dave Birch gives one of the best accounts available today on how we'll navigate the challenges of the emerging payments landscape, and how traditional data points on identity don't really make sense in a digital world. An outstanding piece of work which may well define our journey moving forward. — Brett King, Founder and CEO of Moven.com

Dave Birch's thoughts on digital identity were seminal to the UK's Identity Assurance Scheme. Anyone entering the field of digital identity should take this book with them. — David Rennie, Identity Assurance Programme, Government Digital Service, Cabinet Office
Posted by iang at March 27, 2014 06:53 AM | TrackBack