Why (my, all) financial systems fail -- information complexity
I spent over a decade building the snappiest financial system around. In that time I pursued one goal of efficiency: reduction of complexity. This wasn't only goodness in an angelic sense, it was a pragmatic goal to reduce my own costs in building systems.
The result was pretty spectacular: we were settling trades in seconds and doing so with every leg firmly fastened to the ground. That is, the whole thing was running with direct concrete ties to assets.
But, the big players weren't interested. Indeed they were more than uninterested, they were highly interested in making sure this would never ever happen. Time after time, the message was delivered: Never. Other companies received the same message, so after a few years, I started to take it seriously.
At the time I hypothesised that the reason for this was insider fraud, or at least profits capture. The complexities were endemic and there were very few people who could see the whole picture. So, I theorised that those who could understand the complexities were cashing in on their advantage; from the inside. And some very few who cashed in were also driving the information agenda, as their success made them both wealthy and influential: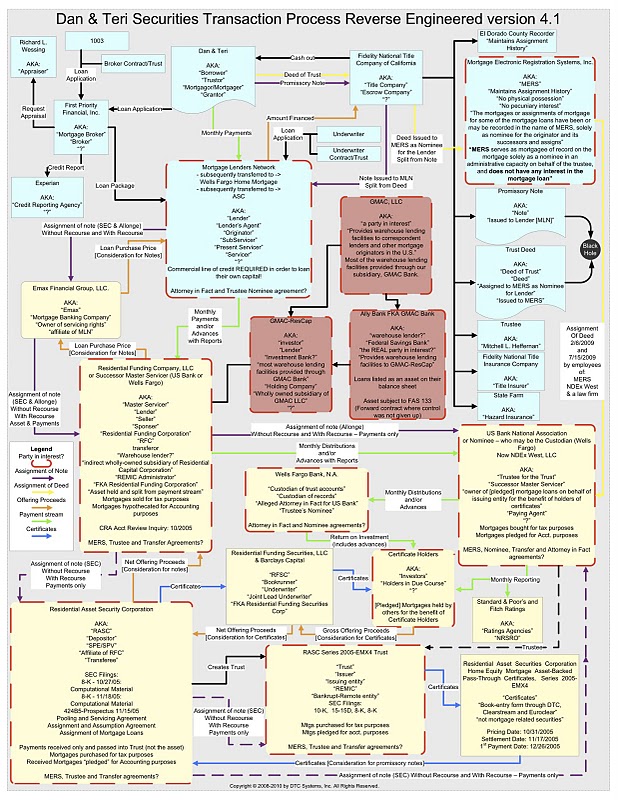 more complexity!
Of course such a hypothesis is unlikely to find proof. By its very nature, how do you prove such a tendency towards chaos? Here comes an alternate perspective from ZeroHedge, citing two papers (1, 2):
And the punchline: "Liquidity requires symmetric information, which is easiest to achieve when everyone is ignorant. This determines the design of many securities, including the design of debt and securitization." Reread the last statement as it explains perhaps better than anything, the true functioning of modern capital markets and why they are terminally broken: in order to preserve the system, the banking cartel need to make everything of virtually infinite complexity so that no one has a clear understanding of what is going on!
Consider the perfect market hypothesis: the market already has all the information priced in, so you yourself cannot beat the market. Or, more politely, you get to earn the market rate of return, so you may as well invest in a unit fund that covers the entire market.
Although this hypothesis is proven, and proved time and time again (look at the averaged hedge fund returns against stock market returns over time), it is also clear that, at the limit, the hypothesis is impossible: if the market already knows, no new information will come to the market. In which case it gums up. (Leaving aside temporal arguments for now.)
So, the market also defends itself by creating reasons to bring in new information. ZeroHedge highlights Gorton & Metrick's punchline:
"Liquidity requires symmetric information, which is easiest to achieve when everyone is ignorant. This determines the design of many securities, including the design of debt and securitization."
The market promotes impenetrable securities, which promotes Ignorance, which generates symmetric information, and hence liquidity. QED.
Well, we're all on the same page. Banks support e.g., OTC or over-the-counter market, and will kill to preserve it, because it creates symmetric information. a.k.a ignorance, leading to profits. Meanwhile, I invented the Ricardian Contract which created an excessively visible and tangible chain of contract. These two concepts are at war, opposite poles of complexity versus transparency.
Which is where sites like Zero Hedge step in - to expose "shadowy" places where things are best left unseen.
Yeah. That's what I thought, too. As we watch the complexity-driven system implode it would be easy to assume that now is the time for transparency to rise from the ashes of Europe, thus to be renamed Phoenix.
But, such a thought would be facile and naive in the extreme. A forlorn hope. The implosion of the world financial system doesn't make people any wiser, just poorer. Since when has the world responded to a crisis by getting smart?
What Zero Hedge is really discovering is that rewards are there if you participate in being aware of the complexity. It is a proof of the hypothesis: wisdom emerges in understanding where the masses, the herd, have it wrong. It is not in itself an absolute, nor a way to save them. For anything good to arise, something else is needed.
Posted by iang at December 11, 2011 04:33 AM | TrackBack