Gold can only be bought with cash. Please Select!

Chris Skinner talks about his surreal experience with a gold ATM:
The idea is that you put cash in and get gold out.

So nice.

I plumped for the cheapest gold nugget priced at £100 and inserted my MasterCard.

Oh no, it didnít work.

I guess thatís because you need to go to the other ATM to get cash to come back and get your gold.
With gold now enjoying its resurgence in notoriety as the alternate world currency, it's probably time to refresh our memory of the May Scale, reproduced below.



'May Scale' of monetary hardness




Hardness

Item



1

Street cash, US dollars


(Hard)



2

Street cash, euro currencies, japan



3

e-gold



4

Street cash, other regions



5

Interbank transfers of various sorts (wires etc), bank checks



6

personal checks



7

Consumer-level electronic account transfers (eg bPay)



8

Business-account-level retail transfer systems


(Soft)

9

Paypal and similar 'new money' entities, beenz



10

Credit cards


(Ridiculously
soft)


Fig. 1. The May Scale
With such a scale at hand, it is easy to see why the gold ATM doesn't take credit cards. Even without the May Scale tucked in your wallet, just in case you thought to whip it out and read out the laws of economics to your ATM, this one gives you handy instructions: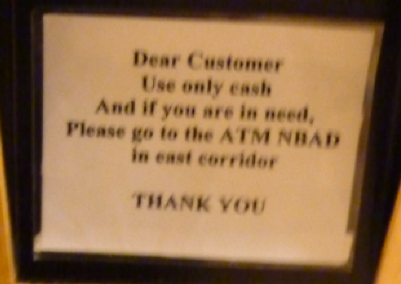 Posted by iang at May 31, 2011 03:27 AM | TrackBack