Silver bullets, silver homers
Some things that have been disturbing my desktop for too long. First, a silver bullet spotted:
Verisign Aims to Deflate 'Pump and Dump' Scams August 11, 2008 By David Needle.

A fraud-detection service warns online brokerages when they're about to make a trade that looks fishy. Verisign is taking a new approach to the battle against so-called "pump and dump" schemes that artificially hype stocks.

A new module for the company's VIP Fraud Detection Service, set for release this Friday, features a "self-learning" behavioral engine designed to help brokerages spot and avoid pump and dump activity. The system works by weighing a number of factors, including stock risk, user behaviors, how trading compares to known fraudulent trades and the volume of trading for a particular stock.
The notion that a broker has to be told what is a dodgy stock and what is a scam is a bit like telling a mafiosa what is a crime, or the pope what is a heathen.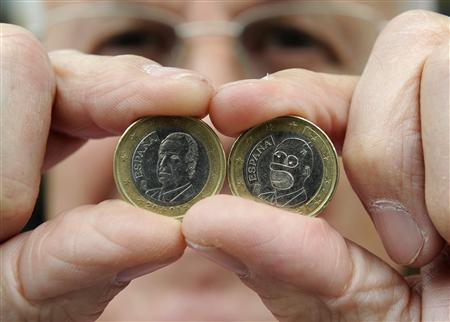 Meanwhile, over in Euro-coin-land:
A one euro coin has turned up in Spain bearing the face of cartoon couch potato Homer Simpson instead of that of the country's king, a sweetshop owner told Reuters on Friday.

Jose Martinez was counting the cash in his till in the city of Aviles, northern Spain, when he came across the coin where Homer's bald head, big eyes and big nose had replaced the serious features of King Juan Carlos.

"The coin must have been done by a professional, the work is impressive," he told Reuters.
In the old days, the punishment for forging money was to lose ones head, so we expect Homer to be arrested any day now.
I'm guessing that some artist has done this, and only after they did it did they find out how many years of jail they are facing.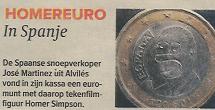 Question is, does the artist's right override the right of the Seignor to collect his seigniorage? Given the record of central banks lately, the latter's right is looking increasingly dodgy.
Thanks to Ray for spotting both Homers! Posted by iang at August 13, 2008 09:54 PM | TrackBack