Finally, someone gets done for Money Laundering....
Money Laundering (ML) was once tightly defined as washing the proceeds of (very) serious crime through an organised cycle.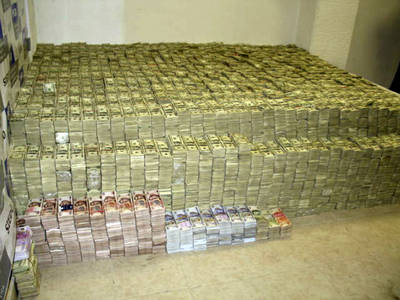 How you could tell was supposed to be that there was (a) an awful lot of it, (b) there was a hot-button crime like drugs, and (c) an organisation that processed the cash. That's what the big drugs rings did; in effect, they outsourced the money problem to the professionals.
This is "real" money laundering:
Three members of a money laundering gang were jailed for a total of 15 years at Ipswich Crown Court today. Between June 2003 and September 2005 the gang laundered more than £100 million in cash for criminal organisations and individuals throughout the United Kingdom.

The court heard that this large scale money laundering operation was centred around a Money Services Bureau (MSB) on the London Road in Croydon, called Deans Exchange. This was run by Zaka Ud Din, with the assistance of Sabz Ali Khojo. As well as offering legitimate money services to the local community, Deans Exchange was being used as a front for a much larger operation, offering the laundering of cash.
My hat off to the guys who busted that ring.
These days, however, ML is a catch-all crime of no semantic meaning, given the massive preponderance of convictions where the only relationship was that it was a crime of some trivial amount of value. ML these days is more likely to mean a well-off professional goes down for one count of slapping his wife and 6 counts of ML.
Technically, this is the best it gets:
BRITAIN'S biggest and most feared gangster got away with murder yesterday when he was jailed for just seven years. Terry Adams, linked by police to 25 unsolved killings, was finally brought to justice after running a £200million crime empire for more than 25 years.

Like Al Capone, police were unable to make any serious charges stick against the crime kingpin and it was a financial scam that proved his downfall. Adams pleaded guilty to a single charge of money laundering - but was told he will be eligible for parole in three and a half years.
More public applaud to the British criminal authorities (and MI5 apparently). That was the case that AML (anti-money laundering) was designed for: get a notorious crime boss on the financials, because he killed all the witnesses (25 in the above case). You can't kill the flow of money, so the theory goes.
La Procuraduría General de la República investiga los vínculos internacionales de la compañía Unimed Pharm Chem de México, la cual fue fachada para que por lo menos desde 2004 un grupo de presuntos productores de drogas sintéticas acumulara en una residencia de las Lomas de Chapultepec más de 205 millones de dólares en efectivo, así como unos 200 mil euros y 157 mil pesos FOTO Ap /PGR
(Sorry about the spanish, haven't found an english article yet.) Which is why there was a rationale that if you could seize the cash, you did the crimeboss harm. The $205 million in cash in the photo above was seized this week in Mexico in some sort of financing deal for a complete factory to produce drugs.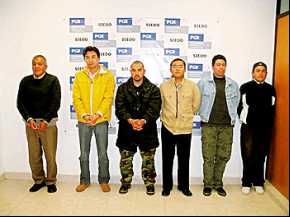 When cash like that gets seized from MLers, this helps. Nobody can object to that!
But the more popular meaning of ML seizures is "police need money to finance more ML seizures." When someone you know gets accused of 5 counts of ML and 1 count of using the postal service, all because he rubbed the local FBI agent up the wrong way, AML becomes the enemy of civil society.
Relevance to FC: as we design systems of value, we must protect our users from illegal ML and from immoral AML. No easy task, given the lack of discrimination in the tools. Above, all the cases are clearly bad guys being caught by the good guys, and we applaud. Indeed, an honest ML bust is so rare that it's worth posting about.
Posted by iang at March 17, 2007 08:35 AM | TrackBack