Open Governance - using the 5th Party to protect the asset
Some many years ago I created a five parties model that used the public as the fifth party to bind all the others together in governing the toughest of assets: money. 5PM is now the benchmark for digital gold issuers, and while not universally adopted, it is widely understood. While I say it myself, I think it a lot more effective, bang for governance buck, than the efforts of the national competitors.
Mostly 5PM is just classical separation of roles (sometimes known as 4 eyes principle), but it also introduced the new factor of open governance: disclosure of key facts to the public, who then audit and share their results over the Internet.
The innovation of open governance creates a dramatic shift in classical governance, as it moves tasks that were previously only possible with (expensive) audits or (backfiring) regulations across to the open market. Solutions then emerge in accord with what stakeholders want to spend, and they emerge in interesting ways.
And, oh so many interesting possibilities! John Quarterman posts:
In every one of those, people have identified an asset, and have created an open participatory forum for sharing information about it. Why? To protect the asset, of course.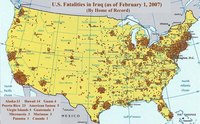 This is a darn sight less expensive than classical forms of governance (regulations, external auditing, but also see how the above list directly challenges representational democracy and internal auditing). As those efforts move steadily, deeper into stormy weather, we can expect open governance to become more and more important in securing assets. Mark the rising star as one to watch.
Posted by iang at March 6, 2007 05:13 PM | TrackBack