Introducing the new HavenCo location...
After SeaLand burnt up a month or so back ...
... we've been on the lookout for a new site for an ultra-cool offshore datahaven. And now we're proud to announce we've found it:
US missile defence radar hits stormy seas - $815m behemoth flounders - By Lester Haines

The Sea-Based X-Band Radar. Photo: BoeingThe future of the US's much-hyped, $815m Sea-Based X-Band Radar (SBX) platform is in serious doubt after a raft of sceptics expressed doubts that the sea monster could ever effectively operate in its intended final mooring off Alaska's Aleutian Islands.
Check it out ...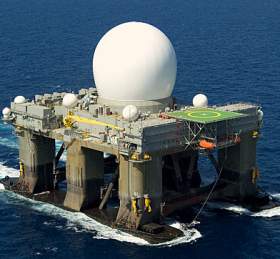 Is that the mother of all radomes, or what?
Posted by iang at September 6, 2006 07:56 PM | TrackBack