Chip-and-Pin terminals were replaced by "repairworkers" ?
In comments to the chip-and-pin fraud story, Lynn points to:
Chip and pin hack exposed

According to our source, a team of shysters has been turning up at petrol stations posing as engineers and taking the Trintech Smart5000 Chip and Pin units away for repair. They have then bypassed the anti-tamper mechanisms and inserted their own card skimmer.

... snip ...

this is also could be considered from the angle of my old security proportional to risk theme

That might explain all the arrests, as they could have gone and examined the videos to see who the repairmen actually were.
The attack on the merchant terminals reminds me of the old one-way-triangle chipmoney designs. They used in general a diversified key arrangment so if you cracked a user card then you could only duplicate that one card. This threat was addressed by blacklisting within the system (there were all sorts of secret instructions and capabilities in these chip money products, some of which got them into hot water from time to time because of the secrecy).
So, with the diversified key design, the limitation was that the upstream merchant card had to hold the full key, only the downstream user card would hold the diversified key. (Think of it as k and H(k). One can prove the other, but not the other prove the one.)
Which simply shifts the burden of the attack to the merchant, so the merchant in theory had to secure the card his device more carefully than a user card. I pointed this out on occasion, but it was not considered a grave risk, mostly because I suspect it was actually a shifting the burden pattern, a la Senge. That is, cognitively, the story had an answer, and going the extra distance to analyse the new story was beyond saturation point.
This is apparently the device, Trintech:
The Smart 5000 PED

The Smart 5000 is based on an ARM7 processor, with MMU (memory management unit). It boots a 2.4 series embedded Linux kernel from 4MB of Flash (8MB optionally available). The device includes 16MB of SDRAM, and 512K of SRAM.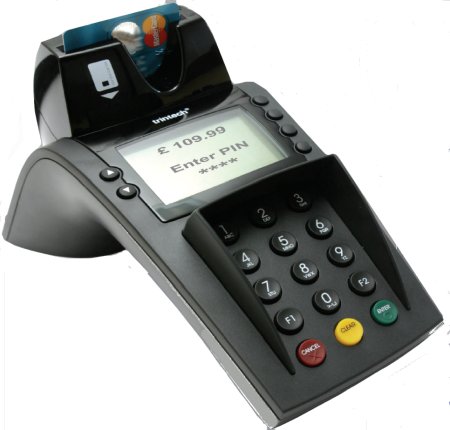 Trintech's Smart 5000 PIN entry device
Standard I/O ports include an RS-232 serial port, and USB. Optional ports include PSTN (public switched telephone network), ISDN (integrated service digital network), and IP/LAN (Ethernet).

The Smart 5000 includes an 8-line, 132 x 64 pixel backlit graphics display, along with 15 keys and 6 programmable keys. It also contains an EMV L1 certified chip card reader; a Track 1, 2, & 3 magswipe reader; and 3 additional SIM/SAM readers.

The Smart 500 measure 8 x 4.3 x 4.7 inches (205 x 110 x 120 mm).

Trintech's Linux-based Smart 5000 PED received certification by Visa as a secure PED in October, 2003. The device also sports certified encryption capabilities for DES, 3DES, RSA (2048-bit key length), with countermeasures agains DPA, DFA, an DTA. It also supports SHA1 and KUKPT.
Posted by iang at May 9, 2006 05:40 AM | TrackBack